When I first read about this in a NYTimes column early this week, it sounded gross. I mean, fried sage? In a cream sauce? And then you have hot sausage? Nothing about this seemed like it would make sense, but I have a sage bush(?) in my garden (that I can't seem to kill and I barely even use the stuff) and those food writers at the Times haven't steered me wrong yet, so I went for it.
This is a modified recipe, as I didn't use theirs and frankly don't remember or care to spend the time finding the link. I made it for two, and we had two large servings, with just barely enough left over to not save it for a lunch the next day.
1/2 lb of Linguini (not fresh)
1 cup of heavy cream
1/2 lb of hot italian sausage in the casing
2 Tbs Fresh sage chopped finely (or use little leaves)
1 small shallot, sliced thinly
Olive oil
Salt
Pepper
Start your pasta water boiling, and a large skillet on medium/medium high with a drop of olive oil.
Cut the sausage into 1/8" slices (think bite-sized). When the pan is hot, add the sausage and cook for 5 minutes or until both sides are browned. Remove sausage from pan and set aside.
If you have a fair amount of oils left in the pan, just add the sage and saute until it turns to a dark green, scraping up any bits that may have been left in the bottom of the pan along the way. You may want to add a small amount of oil if you didn't have a fatty sausage, but be light-handed with the oil.
When the water is boiling, salt it and add the pasta. Cook to package directions. Before you drain your pasta, be sure to save a mug of pasta water.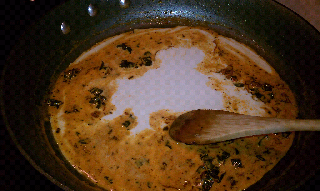 Once the sage is a bit crunchy and the desired shade of dark green, add your thinly sliced shallot. You can also substitute a bit of onion and minced garlic, but I liked the sweetness of the shallot and think garlic would have been a bit much with the sausage. Saute until it becomes translucent and starts to brown.
Turn off the heat, and slowly add the cream, about 1/4 cup at a time. Stir to incorporate, making sure that the cream isn't curdling. Once you've added the cream, turn the heat back on to medium. Add the sausage back in as well. Salt and pepper to taste.
Allow the cream sauce to simmer and thicken to your desired consistency--I'd recommend just a bit thicker than the cream started out.
Add the drained pasta to the sauce skillet and toss to combine. If you'd like a looser sauce, add the reserved pasta water (less than 1/4 cup at a time) until you get your desired texture.
Serve and enjoy!